Grooming


A complete range of services are available from a full groom to a dry brush through. City and Guilds qualified and fully insured, we will complete a thorough examination of your dog prior to grooming to ensure that he or she is fit and well. Our fully-equipped salon comprises a professional grooming bath with height adjustment for smaller dogs and a hydraulic grooming table so dogs of all sizes can simply step onto the platform without being lifted. This is essential for old or large animals. The dogs are secured using an H bar and loops so that they are completely safe whilst being groomed. A full range of bathing products are available including medicated, flea and herbal shampoo.

Please note: We do not use cage driers. Dogs are towelled and then blow-dried. We prefer to scissor cut by hand rather than clipping the coat, although certain breeds can benefit from this. Hand stripping and thinning is better for the coat and gives a nicer finish.

Initial Examination
We will first conduct a general inspection of the coat, body, head and tail to check for fleas or ticks, injuries, dermatitis etc. Ears are checked and cleaned; certain floppy-eared breeds can suffer from infections due to hair around the ears preventing air from getting inside. Gentle hair plucking and cleaning with mild ear solution helps prevent ears from becoming infected, however if we consider your dog to have an infection then we will advise that you take your dog to visit a vet. Eyes are cleaned and tear stains removed, if possible. We will examine the teeth but will not remove tartar as this is generally a job for a vet. We will, of course make the owner aware of any problems we find.

Full Groom
Initial examination as above.
Coat de-matted and thinned/hand-stripped/clipped, as appropriate.
Pad hairs, whiskers and hair around the eyes are trimmed with bull-nosed safety scissors.
Bath and shampoo with appropriate products.
Anal glands checked and expressed.
Claws checked and ground (not clipped) if needed.
Towelled, blow dried, brushed and combed.
Final scissor cut to tidy up any straggly bits.
The Salon
Our fully-equipped salon comprises a professional grooming bath with floor height adjustment to cater for dogs of all sizes; electric height adjustable table with safety H bar and loops and a full range of accessories and bathing products.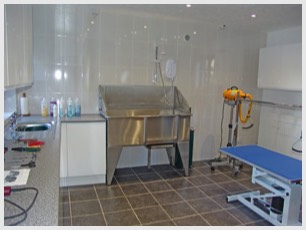 Walk-Groom-Walk Package
Perhaps you will struggle to pick your dogs up on time or would like them to have company for the day? Why not combine the groom with exercise? Drop them off with us and they will be part of our family until you collect them. We will take them on a vigorous hour-long walk followed by a dry brush or full groom. In the afternoon we will take them for another 30 minute walk and they can be fed according to your requirements. For this we charge £20 in addition to the cost of the groom (£25 if after 4.30pm). This is a very popular service so please book well in advance.